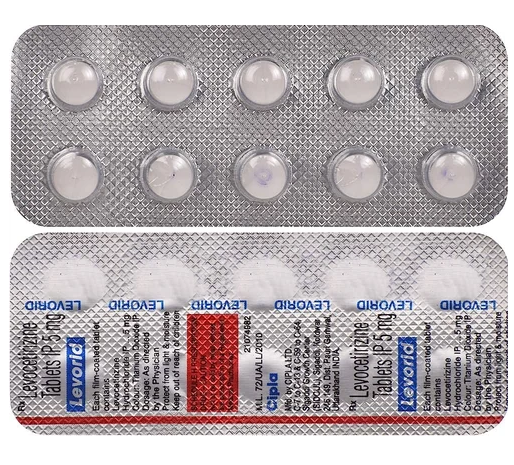 Levorid® 5mg Online
Brand: Generic Xyzal  
Composition: Levocetirizine
Power: 5mg
Clinical and pharmacological group: Histamine H1 receptor blocker. Antiallergic drug
Pharmacotherapeutic group: Antihistamines for systemic action, piperazine derivatives
Treatment: Seasonal Allergies, Year-round (perennial) Allergies
Product form: Tablets
Packaging: Blister
Manufacturer: Cipla Limited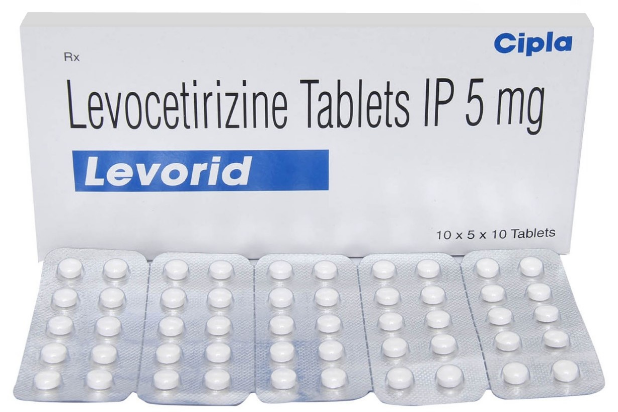 Levorid® 5mg (Levocetirizine) for Sale
What is Levorid® 5mg?
Levorid® 5mg is an antihistamine drug that acts as an isomer of cetirizine. It belongs to the H1-receptor blockers of histamine of the second generation. It usually does not penetrate the blood-brain barrier, so there is no sedative effect; tachyphylaxis is also absent. Practically has no anticholinergic and antiserotonin activity.
What is Levorid® 5mg from?
Levorid® 5mg is an effective allergy medication that contains 5 mg of the active substance in each film-coated tablet. Levorid® 5mg allows you to cope with various forms of allergic reactions, such as runny nose, itching, urticaria, and also reduce swelling of the mucous membranes.
Indications
Treatment of symptoms of allergic rhinitis, including year-round (persistent) and seasonal (intermittent) allergic rhinitis, and allergic conjunctivitis, such as itching, sneezing, nasal congestion, rhinorrhea, lacrimation, conjunctival hyperemia;
pollinosis (hay fever);
urticaria;
other allergic dermatoses accompanied by itching and rashes.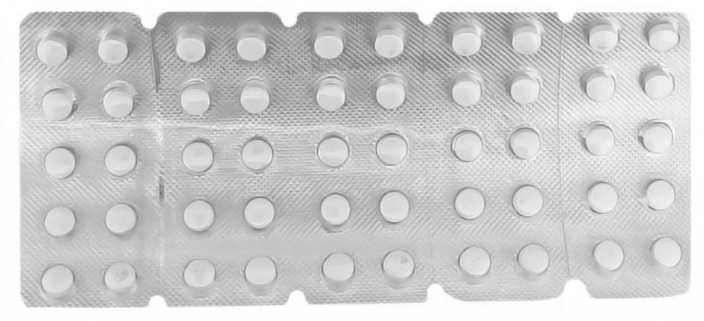 Using Levorid® 5mg
Levorid® Levocetirizine at a dose of 5 mg has demonstrated high efficacy and safety in the treatment of patients with persistent allergic rhinitis with respect to all symptoms of this disease, including nasal and ocular symptoms with good tolerability of treatment.
The therapeutic effect of the antihistamine levocetirizine in patients with allergic persistent rhinitis not only on nasal but also ocular symptoms was confirmed in a Russian multicenter open incomparable study.
Levorid® 5mg significantly suppressed allergy manifestations in patients with different sensitization spectrum (allergy to house dust mites, plant pollen), and in comparative studies with other antihistamines demonstrated a number of advantages.
In a double-blind cross-sectional study, 39 patients with allergies to house dust mites underwent a provocative allergen test, after which patients took 5 mg of levocetirizine, or 10 mg of loratadine, or placebo. Significant improvement was noted in 83.8% of patients treated with levocetirizine and 66.7% treated with loratadine.
In controlled contact of patients with an allergen (meadow grass pollen), it was shown that levocetirizine and fexofenadine had the same time of onset of action — 1 hour after administration and both drugs were significantly more effective than placebo. 24 hours after taking the drug, there was a significant difference in the effectiveness of the drugs, which indicates a longer duration of action of levocetirizine compared with fexofenadine.
When comparing the rate of onset and duration of action of levocetirizine and desloratadine in a double-blind placebo-controlled study, 373 patients with ragweed pollen allergy received levocetirizine 5 mg per day, or desloratadine 5 mg per day, or placebo and were observed for 2 days of controlled contact with ragweed pollen. Self-assessment of symptoms was carried out every half hour. The average time of onset of action was 3 hours for desloratadine, while 1 hour for levocetirizine. Both drugs were more effective than placebo, and levocetirizine was more effective than desloratadine for relieving symptoms of allergic rhinoconjunctivitis.
Both drugs also significantly reduced nasal congestion, and on the first day of administration, this effect was more pronounced in levocetirizine than in desloratadine. 24 hours after taking the first dose of the drug, the severity of symptoms was significantly lower in the levocetirizine group, which indicates a longer duration of action of the drug compared with desloratadine.
In all studies in patients with rhinitis, the safety of using Levorid® 5mg has been proven: no serious side effects and undesirable effects were detected in long-term follow-up for 6 months. The safety and efficacy of oral antihistamines in children have been established. They can be prescribed even to small children.
How to take Levorid® 5mg tablet?
They are taken orally, regardless of the meal.
Adults and children over the age of 6 years – 5 mg 1 time / day.
Children aged 2-6 years – 1.25 mg 2 times / day.
The duration of treatment depends on the type, duration and course of symptoms. It takes 3-6 weeks to treat hay fever, and with short-term exposure to pollen, taking the drug for 1 week is usually enough.
The method of application and dosage regimen of a particular drug depend on its form of release and other factors. The optimal dosage regimen is determined by the doctor. It is necessary to strictly observe the compliance of the used dosage form of a particular drug with the indications for use and the dosage regimen.
Contraindications to use
Severe renal insufficiency (CC below 10 ml/min); children under 2 years of age; hypersensitivity to levocetirizine.
Use during pregnancy and lactation
There are no clinical studies on the use of levocetirizine during pregnancy. It is not recommended to use during pregnancy and lactation (breastfeeding).
Adequate and strictly controlled clinical studies on the safety of the use of levocetirizine during pregnancy have not been conducted, therefore, the drug should be prescribed with caution during pregnancy. Levocetirizine is excreted in breast milk, which must be taken into account when weighing the risk / benefit of its use.
Thus, the presented data indicate the high efficacy and safety of levocetirizine. It can be used in clinical practice in patients of different age groups for the treatment of common allergic diseases, is a promising drug that expands the capabilities of the doctor and the patient when choosing the optimal therapy.
Which is better than Desloratadine or Levocetirizine?
When comparing the efficacy of levocetirizine and desloratadine at doses of 2 and 5 mg, the best efficacy of levocetirizine was found (p <0.02). The effect of H1-antihistamines on itching varies in patients with AtD and differs from the effects of urticaria, which responds better to AGP, which is associated with a more complex mechanism of AtD pathogenesis. Currently, phase II studies of the effectiveness of H4-histamine blockers are being conducted.
Which generation of antihistamines does Levorid® 5mg Levocetirizine belong to?
Modern antihistamines of the IIb generation – Levocetirizine, the R-enantiomer of cetirizine ‒ affect the histamine-dependent stage of allergic reactions, reduce vascular permeability and migration of eosinophils, limiting the release of inflammatory mediators.
Precautions
The intervals between doses should be selected individually depending on renal function.
It is recommended to be careful when used with alcohol at the same time.
If patients have predisposing factors to urinary retention (for example, spinal cord injury, prostatic hyperplasia), caution should be exercised, since levocetirizine may increase the risk of urinary retention. Caution should be observed in patients with epilepsy and increased convulsive readiness, since levocetirizine can cause exacerbation of seizures.
The reaction to skin allergic tests is suppressed by antihistamines and before testing it is necessary to refrain from taking the drug for 3 days.
Itching may occur after discontinuation of levocetirizine, even if there were no such symptoms at the beginning of treatment. The symptoms may go away on their own. In some cases, the symptoms may be severe and this may require the resumption of treatment. After resuming treatment, these symptoms should go away.
Side effects of Levorid® 5mg (Levocetirizine)
The frequency of side effects is unknown (cannot be estimated from available data).
From the immune system: hypersensitivity reactions, including anaphylaxis.

From the side of metabolism:

increased appetite.
From the side of the psyche: anxiety, aggression, excitement, depression, hallucinations, insomnia, suicidal thoughts.
From the nervous system: convulsions, thrombosis of the sinuses of the dura mater, paresthesia, dizziness, fainting, tremor, dysgeusia.
From the side of the hearing organ: vertigo.
From the side of the organ of vision: visual impairment, blurred visual perception, inflammatory manifestations.
From the cardiovascular system: angina, tachycardia, palpitations, jugular vein thrombosis.
From the respiratory system: shortness of breath, increased symptoms of rhinitis.
From the digestive system: nausea, vomiting, diarrhea.
Hepatobiliary disorders: hepatitis, changes in liver function tests.
From the urinary system: dysuria, urinary retention.
From the skin and soft tissues: angioedema, persistent drug erythema, itching, rash, urticaria, hypotrichosis, cracks, photosensitization.
From the musculoskeletal system: muscle pain, arthralgia.
Common disorders: peripheral edema, weight gain.
Other: cross reactivity.