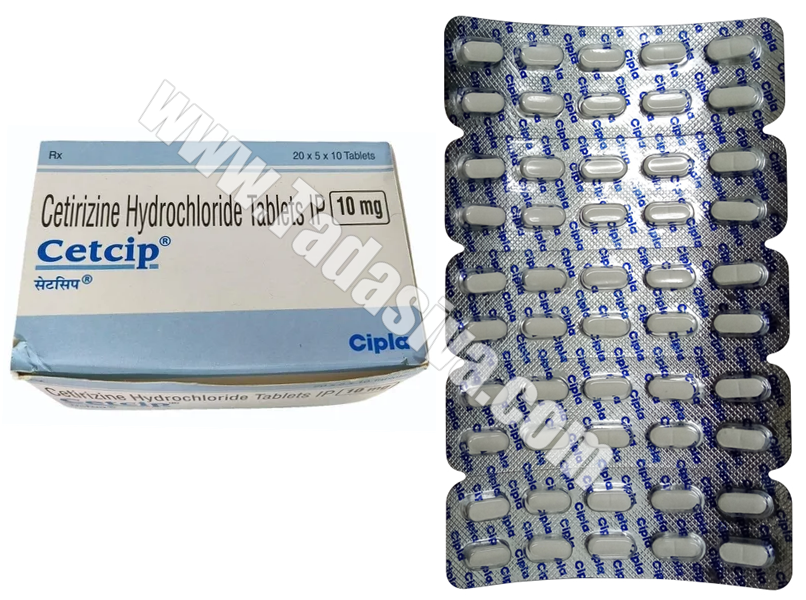 Buy Cetcip® Online
Brand: Generic Zyrtec
Composition: Cetirizine hydrochloride
Power: 5mg, 10mg
Treatment: To relieve nasal, ocular symptoms of year-round (persistent) and seasonal (intermittent) allergic rhinitis, allergic conjunctivitis: itching, sneezing, nasal congestion, rhinorrhea, lacrimation, conjunctival hyperemia; symptoms of chronic idiopathic urticaria.
Product form: Tablets
Packaging: Blister
Manufacturer: Cipla Limited
Country of manufacture: India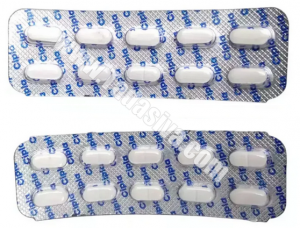 Overview of Cetcip® Tablets
---
Cetcip® – White oblong tablets, film-coated, with a transverse risk.
Group: Antiallergic agent — H1-histamine receptor blocker.

Action:

Cetirizine– the active substance of the drug Cetcip®, is a metabolite of hydroxyzine, has an antihistamine effect with an antiallergic effect. Cetirizine belongs to the group of competitive histamine antagonists and blocks H1-histamine receptors with little effect on other receptors and practically has no anticholinergic and antiserotonin effects.
Tadasiva.com is a convenient search for medicines.
What is Cetcip® prescribed for?
---
Cetcip® Indications This is the treatment of symptoms of year-round and seasonal allergic rhinitis and allergic conjunctivitis, such as:
itching, sneezing, rhinorrhea, lacrimation, conjunctival hyperemia;
hay fever (pollinosis);
urticaria (including chronic idiopathic urticaria);
Quincke's edema;
other allergic dermatoses (including atopic dermatitis), accompanied by itching and rashes.
What is the active ingredient in Cetcip®?
---
The active ingredient of Cetcip® is cetirizine hydrochloride, which blocks the action of histamine, which causes the development of allergies.
Cetcip® is highly effective and has a long-lasting effect, which allows you to eliminate symptoms within 24 hours after taking one tablet.
When to take a Cetcip® Cetirizine tablet?
---
Cetcip® preparation it should be taken in the evening, due to the more intense manifestation of symptoms at this time of day.
The Cetcip® tablet is swallowed whole without chewing and washed down with water.
Cetcip® is taken regardless of the meal.
In case of mild side effects in adults and adolescents over 12 years of age, it is recommended to take 5 mg of Cetcip® in the morning and evening, respectively.
How long can I take Cetcip® Cetirizine Pills?
---
The drug Cetcip® can be taken regardless of the meal.
For adults:
10 mg (1 tablet) 1 time a day.
Children:
Children from 6 to 12 years of age 10 mg (1 tablet) 1 time a day.
The duration of treatment should not exceed 4 weeks.
After how long does Cetcip® Cetirizine work?
---
Cetcip® refers to systemic antihistamines. The main component of the drug is cetirizine dihydrochloride. Improvement of the patient's condition after taking Cetcip®  is observed after 25 minutes, in some cases after 60 minutes.
A single dose of the Cetcip® drug is effective throughout the day.
How many times a day can Cetcip® Cetirizine be used?
---
Cetcip® is a drug that is used to treat allergic reactions such as runny nose, urticaria and itching. Each tablet is film-coated and contains 5 or 10 mg of cetirizine.
The drug is recommended to be taken orally once a day.
Cetcip® is an effective and safe medicine and can be used by both adults and children.
What are the contraindications of Cetcip® Cetirizine tablets?
---
Hypersensitivity to cetirizine, hydroxyzine or other piperazine derivatives, as well as any other component of Cetcip®;
end-stage renal failure (creatinine clearance <10 ml/min);
hereditary galactose intolerance, lactase deficiency or glucose-galactose
malabsorption syndrome;
children under 6 years of age.
What are the Side effects of Cetcip® Сetirizine?
---
Side effects of Cetcip® develop in very rare cases.
From the hematopoietic system: thrombocytopenia.
From the nervous system: drowsiness, dizziness, headache, aggression, excitement, confusion, depression, hallucinations, insomnia, tic, convulsions, dyskinesia, dystonia, paresthesia, fainting, tremor.
From the side of the organ of vision: violation of accommodation, blurred vision, nystagmus.
From the cardiovascular system: tachycardia.
From the respiratory system: rhinitis, pharyngitis.
From the digestive system: dry mouth, nausea, abdominal pain, diarrhea, liver dysfunction (increased levels of transaminases, alkaline phosphatase, GGT, bilirubin).
From the urinary system: urination disorder, enuresis.
Allergic reactions: itching, rash, urticaria, angioedema, hypersensitivity, up to the development of anaphylactic shock.
From the side of metabolism: an increase in body weight.
Other: fatigue, asthenia, malaise, edema.
The use of Cetcip® during Pregnancy and breastfeeding
---
Pregnancy:
Data on the use of cetirizine during pregnancy are limited. However, there were no cases of malformations, embryonic and neonatal toxicity with a clear cause-and-effect relationship.
Experimental studies on animals have not revealed any direct or indirect adverse effects of cetirizine on the developing fetus (including in the postnatal period), the course of pregnancy, childbirth.
During pregnancy, it should be used with caution if the intended benefit to the mother exceeds the potential risk to the fetus. Before using Cetcip®, if you are pregnant, or assume that you could be pregnant, or are planning pregnancy, it is necessary to consult a doctor.
Breastfeeding period:
Cetirizine is excreted into breast milk in an amount of 25-90% of the concentration in blood plasma, depending on the sampling time after taking Cetcip®. Adverse reactions associated with cetirizine may occur in infants.
During breastfeeding, it should be used with caution if the intended benefit to the mother exceeds the potential risk to the child.
Fertility:
Available data on the effects on human fertility are limited, but no negative effects on fertility have been identified in animal studies.
What is the difference between Cetcip® from similar medications?
---
Cetcip® Cetirizine belongs to the third generation of antihistamines and causes fewer side effects. In particular, it has almost no sedative effect on the nervous system. In addition, Cetcip® is much slower to become addictive and, on average, acts much faster. In addition, Cetcip® lasts longer. At the same time, Cetcip® is significantly more expensive.
Use Cetcip® Cetirizine with caution if you have:
---
chronic renal insufficiency (with creatinine clearance > 10 ml per minute, correction of the dosage regimen is required);
elderly patients (with age-related decrease in glomerular filtration);
epilepsy and patients with increased convulsive readiness;
patients with predisposing factors to urinary retention (see section "Special instructions");
with simultaneous use with alcohol (see the section "Interaction with other drugs");
the period of breastfeeding;
pregnancy.
Overdose:
---
Symptoms: confusion, diarrhea, dizziness, fatigue, headache, malaise, mydriasis, itching, weakness, anxiety, sedation, drowsiness, stupor, tachycardia, tremor, urinary retention.
Treatment: immediately after taking the drug — gastric lavage or induction of vomiting. It is recommended to prescribe activated charcoal, conduct symptomatic and supportive therapy. There is no specific antidote.
Hemodialysis is ineffective.
Storage conditions:
---
At a temperature not exceeding 30° C (86 degrees F). Keep out of reach of children.
Allergy remedy
Cetirizine-10
Allergy remedy Zyrtec