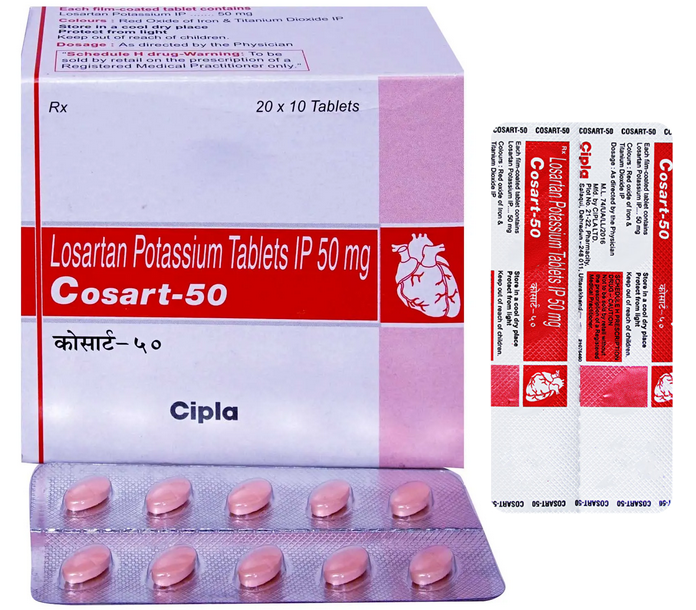 Buy Cosart® 25 / 50 / 100 MG Online
---
Brand: Generic Cozaar 
Composition: Losartan
Power: 25mg, 50mg, 100mg
Pharmacotherapeutic group: Drugs that affect the renin-angiotensin system. Angiotensin II antagonists. Losartan
Treatment: treatment of essential hypertension in adults / treatment of kidney disease in adult patients with arterial hypertension and type II diabetes mellitus / reducing the risk of stroke in adult patients with arterial hypertension and left ventricular hypertrophy
Product form: Tablets
Packaging: Blister
Manufacturer: Cipla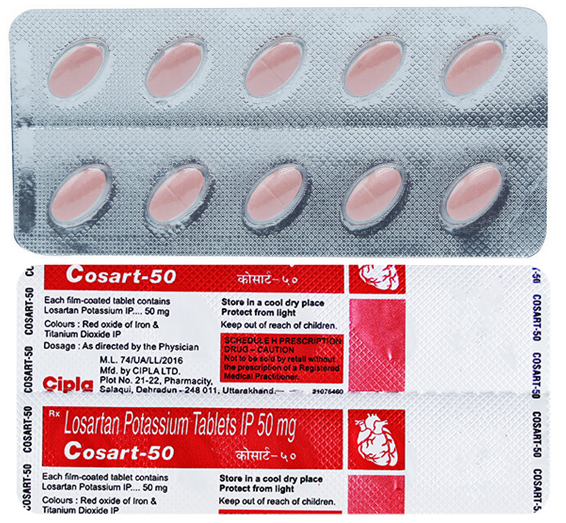 Cosart® 25 / 50 / 100 MG (Losartan) for Sale
Cosart® 25 / 50 / 100 MG is prescribed for the treatment of the following diseases and conditions:
hypertension;
heart failure;
protection of kidney function;
For patients with arterial hypertension, Cosart® 25 / 50 / 100 MG is prescribed for pressure. Its reception should ensure a steady decline to the norm in each age category.

In the treatment of heart failure, Cosart® 25 / 50 / 100 MG Losartan is prescribed as part of a comprehensive treatment for the prevention of complications.
Cosart® 25 / 50 / 100 MG: composition
The drug Cosart® is produced in film-coated tablets. The composition of the drug includes the active substance losartan potassium. As auxiliary substances, lactose, povidone, MCC, starch, aerosil, magnesium stearate are usually used.
Cosart®: dosage
The standard initial and maintenance dose for hypertension is 50 mg once a day.
The therapeutic effect is cumulative and reaches a maximum after 3-6 weeks.
The maximum daily dose can be no more than 100 mg.
In chronic heart failure, the initial dose is 12.5, which can be increased gradually to 150 mg per day, provided that the patient is well tolerated.
In chronic kidney disease, depending on the degree of pressure reduction, 50-100 mg of Cosart® per day is prescribed. In this case, its combination with other antihypertensive agents may be prescribed: for example, Cosart®  and Bisoprolol. The compatibility of such combinations is often used in high blood pressure treatment regimens.
All decisions on dosages and treatment regimen for a particular patient are made by a doctor.
Overdose
With excessive intake of losartan, there is a possibility of increased side effects and deterioration of the patient's condition.
Cosart® Contraindications:
Hypersensitivity to losartan and other components of the drug.
Simultaneous use with angiotensin converting enzyme (ACE) inhibitors in patients with diabetic nephropathy.
Simultaneous use with aliskiren and drugs containing aliskiren in patients with diabetes mellitus and / or moderate or severe renal impairment (glomerular filtration rate (GFR) less than 60 ml / min / 1.73 m2 of body surface area) (see "Interaction with other drugs").
Hereditary lactose intolerance, lactase deficiency, glucose-galactose malabsorption syndrome.
Severe liver dysfunction (no experience of use).
Pregnancy and breastfeeding.
Children under 18 years of age (efficacy and safety of use have not been established).
Cosart®: side effects
Cosart® is well tolerated by patients, negative reactions are rare, pass after some time and do not require discontinuation of the drug. The most common side effects:
anemia
dizziness, headache
systemic dizziness vertigo
hypotension
impaired renal function
hypokalemia
hypoglycemia
Precautions
Arterial hypotension, water-electrolyte balance disorders, hyperkalemia, decreased circulating blood volume (BCC), liver dysfunction (less than 9 points on the Child-Pugh scale), severe renal dysfunction, bilateral renal artery stenosis or artery stenosis of a single kidney, aortic or mitral stenosis, hypertrophic obstructive cardiomyopathy, heart failure with concomitant severe renal impairment, severe CHF of functional class IV according to the NYHA classification, heart failure with threatening arrhythmias, ischemic heart disease, cerebrovascular diseases, primary hyperaldosteronism, angioedema in the anamnesis.
The use of Cosart® during pregnancy and lactation
The use of Cosart® acting on the renin-angiotensin-aldosterone system (RAAS) during the first trimesters of pregnancy reduces kidney function and increases the morbidity and mortality of the fetus and newborns. The development of oligohydramnion may be associated with fetal lung hypoplasia and skeletal bone deformities. Possible adverse events in newborns include hypoplasia of the skull bones, anuria, arterial hypotension, renal failure and death. When diagnosing pregnancy, the drug should be immediately canceled.
The above undesirable outcomes are usually caused by the use of Cosart®, acting on RAAS, in the second and third trimester of pregnancy. Most epidemiological studies on the development of fetal abnormalities after the use of antihypertensive agents in the first trimester of pregnancy have not revealed differences between Cosart® acting on RAAS and other antihypertensive agents.
When prescribing hypotensive therapy to pregnant women, it is important to optimize possible outcomes for the mother and fetus. If it is impossible to choose an alternative therapy instead of Cosart® therapy that affects RAAS, it is necessary to inform the patient about the possible risk of therapy for the fetus. It is necessary to conduct periodic ultrasound examinations in order to assess the state of the intraamniotic space. Depending on the week of pregnancy, it is necessary to conduct appropriate fetal tests.
Drug interaction
Tranylcypromine. The use of Cosart® and tranylcypromine is contraindicated by the manufacturer of tranylcypromine, since the effects of hypotensive agents can be significantly enhanced. Trazodon. Due to additive hypotensive effects, patients receiving Cosart® simultaneously with trazodone may have excessive hypotension. It may be necessary to reduce the dosage of the antihypertensive agent when used with trazodone.
Postoperative period
Cosart® can enhance hypotensive effects by blocking oligopeptide hormone II in patients who have undergone serious surgery, or during anesthesia with drugs. Therefore, it should be used with caution before surgery. If hypotension occurs during surgery and / or anesthesia and it is believed that it is associated with the blockade of the formation of oligopeptide hormone II, this can be corrected by increasing the volume.
Black patients
Although oligopeptide hormone II receptor antagonists, such as losartan, are effective in lowering blood pressure in black patients (a population with low renin content), there is usually a lower antihypertensive response compared to other ethnic groups. Most black patients will achieve blood pressure goals when oligopeptide hormone II receptor antagonists are combined with a diuretic. The overall antihypertensive response to the combination of Cosart® and hydrochlorothiazide is the same for black and non-black patients. Although it is unclear that this is the case in patients with arterial hypertension and left ventricular hypertrophy, there is evidence that this benefit may not extend to black patients. In the LIFE study, black patients treated with atenolol had a lower risk of cardiovascular complications than blacks treated with Cosart®. This finding cannot be explained by any imbalance between treatment groups or based on population differences other than race. Blood pressure reduction in both treatment groups was consistent between black and non-black patients in this study. The explanation is not established.