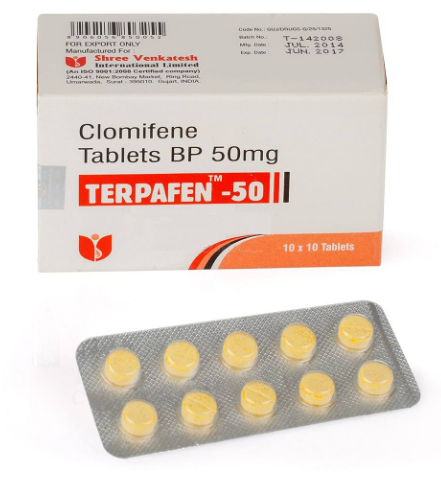 Buy Cheap Generic Clomid-50 Tablets Online
Brand: Terpafen™-50 Clomifene Tablets BP 50mg
Composition: Clomiphene Citrate
Power: 50mg
Treatment: Infertility, Oligospermia, Androgen Deficiency
Manufacturer: Shree Venkatesh
Country of Origin: India
Terpafen™ 50mg Tablets for Sale in Tadasiva.com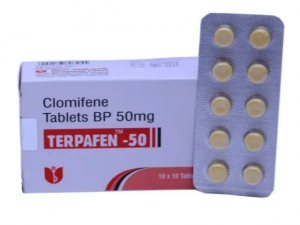 Terpafen™ 50mg is a nonsteroidal antiestrogenic drug from Shree Venkatesh (India), which promotes better production of gonadotropins and, as a result, increases the level of natural testosterone. The active substance of the tablets is clomiphene citrate, a synthetic antiestrogen similar in structure to chlorotrianizene. According to the effect, it is an estrogen receptor blocker, a stimulator of gonadotropin secretion. It is important to understand that initially clomiphene citrate was developed purely for medicinal purposes. Since 1967, it has retained a wide medical purpose.
Indications for the use of Terpafen™ 50mg in medical practice are as follows:
infertility,
anovulation,
oligospermia,
galactorrheiasis,
pituitary gland hypertrophy,
androgen deficiency,
polycystic ovaries.
In sports, Terpafen™ 50mg is relevant mainly during steroid courses associated with the risk of estrogenic side effects and the consequences of reduced production of sex hormones.
Packing: 10 tablets in 1 strip
Minimum order quantity: 30 tablets
Minimum price: $ 0.50 per tablet
: 14-21 days
Trackable service: 5-9 days
Order from $150.00: Free AirMail shipping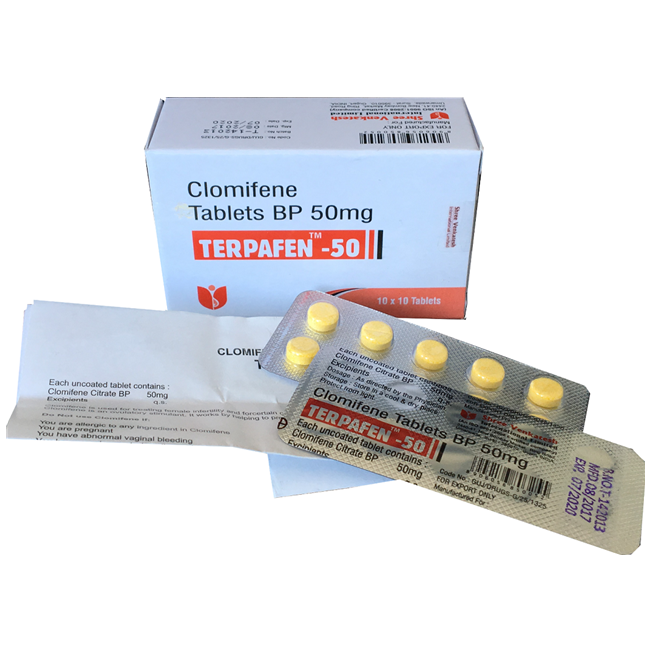 Terpafen™-50 (Generic Clomid) Price
 PACKAGE
 PRICE
 ORDER
 50mg × 30 tablet
$ 49.95


Per pill $ 1.67

50mg × 60 tablet
$ 77.95


Per pill $ 1.30

50mg × 90 tablet
$ 109.95


Per pill $ 1.22

50mg × 120 tablet
$ 139.95


Per pill $ 1.17

50mg × 180 tablet


Free AirMail shipping

$ 199.95


Per pill $ 1.11

50mg × 360 tablet


Free AirMail shipping

$ 389.95


Per pill $ 1.08
Terpafen™-50 Description
The active substance of the drug is called clomiphene citrate. It is actually an artificial estrogen with antagonistic, anti-estrogenic properties. The effect of clomiphene is most similar to tamoxifen.
How does Terpafen™-50 work?
It prevents the negative effects of estrogens on the GGYA arc (pituitary – hypothalamus – testicles) by binding to estrogen receptors. In other words, the drug acts as a specific blocker of the estrogen receptors of the pituitary gland, hypothalamus and testicles, due to which the necessary effects are provided (for comparison, tamoxifen drugs act less selectively, blocking the activity of estrogens in almost the entire body).
How to take Terpafen™-50?
Like analogues from other manufacturers, this drug clomiphene is initially an effective drug that is widely used in medical practice as an antiestrogen.
The use of Terpafen™-50 (clomiphene citrate) for women can be prescribed to stimulate ovulation in infertility as a result of secondary ovarian hypofunction caused mainly by hypothalamic-pituitary functional disorders, as well as with functional uterine bleeding, severe oligomenorrhea, secondary amenorrhea or polycystic ovarian syndrome.
For men, in turn, the indications for the use of Terpafen™-50 are as follows: firstly, androgen deficiency, and secondly, oligospermia.
If we talk about sports, then the reception of Terpafen™-50 is carried out mainly by men during post-course therapy. The drug is taken in dosages of about 50-150 mg per day (1-3 tablets per day, respectively). The indicated frequency of use (per day) is explained by the short-term effect of the substance. Its half-life takes about 5 days (it is excreted mainly by the intestines and kidneys).
What effects are we talking about?
What is primarily important for athletes is an increase in testosterone levels, so the drug is often used as the main means for post–course therapy (this effect is achieved by increasing the secretion of gonadotropic hormones LH and FSH, luteinizing and follicle-stimulating hormones). This helps to prevent the phenomenon of rollback at the end of taking steroids.
Can Terpafen™-50 cause side effects?
This is practically impossible. It has no gestagenic or androgenic activity, and its estrogenic activity at moderate dosages does not cause harm. In general, if the recommendations are followed, the drug is considered relatively safe for use and in rare cases can cause disorders such as nausea, hot flashes, dizziness and headaches (temporary blurred vision is also possible).
Terpafen™-50 Reviews
Reviews of Terpafen™-50 from Shree Venkatesh describe it as a working anti-estrogenic drug that surpasses many analogues. What exactly do the statements say? This can be found on the resource Forum https://tadasiva.com. There, after a simple registration, you will be able to personally ask your questions to experienced consultants who will answer them in a short time. The Forum's consultants include only qualified specialists, including a sports doctor and a professional bodybuilding coach.
Does Terpafen™-50 have contraindications to use?
Has: individual hypersensitivity, renal or hepatic insufficiency, oncology of the genitals (benign or malignant neoplasms), hypofunction or pituitary tumor, a tendency to form blood clots. Separately, we note that these pills are contraindicated for women with metrorrhagia of unclear etiology, ovarian cyst, endometriosis, ovarian insufficiency, bleeding unrelated to ovulation disorders during pregnancy and during lactation.
The drug interaction of the drug is not described, therefore, as well as due to contraindications, before taking it for medicinal or sports purposes, it may be necessary to consult a treating specialist in order to avoid risks.
Storage conditions of Terpafen™-50:
Tablets should be stored at a temperature no higher than room temperature; https://tadasiva.com the storage place should be completely dry and dark out of the reach of pets and children.