Buy Cheap FCN-150 / FCN-200 / FCN-400 Fluconazole Online
FCN Fluconazole is an antifungal agent of the triazole compound class. FCN Fluconazole has a pronounced antifungal effect, specifically blocks the synthesis of fungal sterols. It has a specific effect on fungal enzymes dependent on cytochrome P450. It is active against various strains of Candida spp. (including visceral candidiasis), Cryptococcus neoformans (including intracranial infections), Microsporum spp. and Trichophyton spp. Fluconazole is also active against pathogens of endemic mycoses: Blastomyces dermatitidis, Coccidioides immitis (including intracranial infections), Hystoplasma capsulatum.
Brand: Diflucan
Composition: Fluconazole
Power: 150mg, 200mg, 400mg
Treatment: a medicine to treat fungal infections
Manufacturer: Intas Pharmaceuticals Ltd.
Country of Origin: India
What diseases does FCN Fluconazole treat?
FCN Fluconazole is prescribed for the treatment of fungal diseases:
cryptococcal meningitis;
mucosal candidiasis;
coccidioidomycosis;
invasive candidiasis;
vaginal candidiasis;
dermatomycosis;
candida balanitis;
oral candidiasis (caused by wearing dentures);
nail dermatophytosis when other drugs are contraindicated.
To prevent relapses:
cryptococcal meningitis;
oropharyngeal candidiasis (fungal lesion of the pharynx and larynx) and
esophageal candidiasis in patients with HIV infection;
vaginal candidiasis;
candida infection with prolonged neutropenia.
Pharmacological properties of FCN Fluconazole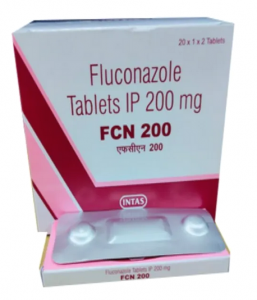 After ingestion, it is well absorbed in the digestive tract. Food intake does not affect the absorption of fluconazole. The maximum concentration in the blood plasma is reached in 0.5–1.5 hours after oral administration. The half-life of the drug is 30 hours, which allows the drug to be used 1 time a day during the course of treatment with FCN Fluconazole and provides a therapeutic effect in vaginal candidiasis after a single dose of the drug.
The concentration of the active substance in the blood plasma is directly proportional to the dose taken. 11-12% of fluconazole binds to blood proteins. With a daily single dose of fluconazole for 4-5 days, a stable concentration in blood plasma is achieved in 90% of patients. When a shock (twice daily) dose is administered on the 1st day of treatment, the above effect is achieved by the 2nd day of treatment.
FCN Fluconazole penetrates well into all body fluids. In CSF, the concentration of fluconazole reaches 80% of its concentration level in blood plasma. FCN Fluconazole is excreted from the body in the urine, and 80% is unchanged. The clearance of fluconazole is directly proportional to creatinine clearance.
Why take the Fluconazole tablet?
FCN Fluconazole belongs to the group of antifungal drugs. The active substance is fluconazole. Fluconazole is used to treat fungal infections, as well as to prevent the development of candida infection. The most common cause of fungal infections are yeast-like fungi of the genus Candida.
How is FCN Fluconazole taken?
Capsules are taken orally, washed down with water and swallowed whole. Treatment can be started before the results of the analysis are received. But after receiving the results, antifungal therapy will need to be adjusted.
The daily dose of FCN Fluconazole is selected depending on the severity of the fungal infection.
What is the dosage of FCN Fluconazole?
Dosage of FCN Fluconazole in adults:
Cryptococcal meningitis and cryptococcal infections:

the initial dose is 400 mg on the first day, after 200-400 mg once a day for 6-8 weeks. In life-threatening conditions, the dose can be increased to 800 mg. The preventive dose is 200 mg per day, can be used for a long time
Coccidioidomycosis: 200-400 mg per day, with damage to the meninges — up to 800 mg per day.

Candidemia, disseminated candidiasis, other invasive candidiasis infections:

800 mg on day 1, then 400 mg per day.
Fungal lesion of the pharynx and larynx: 200-400 mg on the first day, then for 7-21 days 100-200 mg 1 time a day.

Atrophic candidiasis of the oral cavity in patients with dentures:

50 mg 1 time a day for 2 weeks.

Candiduria:

200-400 mg for 7-21 days. In severe disorders of the immune system, long-term use is allowed.

Chronic cutaneous-mucous candidiasis:

50-100 mg for 28 days.
Esophageal candidiasis: 200-400 mg on the first day, then 100-200 mg per day for 14-30 days until remission is achieved.
For preventive purposes:
Genital candidiasis and esophageal candidiasis in HIV-infected patients:

100-200 mg per day or 200 mg 3 times a week.
Skin infections, including foot fungus: 150 mg once a week or 50 mg every day for 2-4 weeks. If necessary, the treatment can be extended up to 6 weeks.

Multicolored lichen:

300-400 mg once a week for 1-3 weeks or every day 50 mg 1 time a day for 2-4 weeks.

Onychomycosis:

150 mg once a week.
Candidiasis in patients with malignant tumors: 200-400 mg 1 time per day.
FCN Fluconazole for children:
For children, the dose is selected according to body weight — according to the standard 3 mg / kg once a day. The shock dose is 6 mg / kg (only on the first day of treatment).
Elderly patients:
For the treatment of elderly people in the absence of signs of renal insufficiency, the drug is used in the usual dose. For patients with renal insufficiency (creatinine clearance 11-50 ml / min), the initial shock dose is 50-400 mg, the daily dose of FCN Fluconazole for subsequent injections is reduced by 2 times. Patients who are constantly on dialysis are prescribed FCN Fluconazole after each dialysis session.
FCN Fluconazole in invasive candidiasis
FCN is an antifungal drug belonging to the chemical class of triazole derivatives. The oral form of fluconazole is used for the prevention and treatment of candidiasis.
Invasive candidiasis is a fungal disease that can be caused by several Candida species; the most common species is Candida albicans, but the prevalence of species varies significantly depending on geographical location.
The spectrum of infection with invasive candidiasis varies from minimally symptomatic candidemia to lightning-fast sepsis associated with death. Representatives of the Candida spp strain. they are common commensal microorganisms in the microbiota of the skin and intestines, and disorders in the skin and gastrointestinal barriers (for example, due to perforation of the gastrointestinal tract) contribute to the development of invasive diseases.
Early diagnosis of invasive candidiasis is difficult, but the key point for effective therapy. Early diagnosis may increase the likelihood of rapid intervention in the pathological process.
The symptoms of invasive candidiasis depend on the localization of the process and include dysphagia, lesions of the skin and mucous membranes, blindness, symptoms of vaginal infections (itching, burning sensation, vaginal discharge), fever, oliguria, acute renal failure and disseminated intravascular coagulation.
Antifungal prevention and preventive therapy with FCN
Most published data indicate that antifungal prophylaxis with fluconazole reduces the incidence of invasive candidiasis in patients in intensive care units where the risk of infection is high.
Theoretically, antifungal prevention can contribute to the emergence of acquired resistance. The data confirming the effectiveness of targeted prophylaxis among patients with certain risk factors for invasive candidiasis are conceptually promising, but the results of clinical randomized double-blind placebo-controlled trials were inconclusive. The drug was safe and tended to reduce the incidence of invasive candidiasis when used for prevention, but no statistically significant difference was observed. More accurate data confirm the rationality of using targeted antifungal prophylaxis in individual patients with a high risk of liver, pancreas, small intestine or hematopoietic stem cell transplantation.
The need for preventive and empirical antifungal therapy in patients with a high risk of invasive candidiasis with poorly expressed symptoms, without obvious mycological signs of the disease has not been fully investigated.
Side effects of FCN Fluconazole
FCN Fluconazole is tolerated by patients satisfactorily. But some side effects may develop. The following clinically significant negative phenomena have been registered:
Digestive system:

often — abdominal pain, nausea, vomiting, infrequently — diarrhea, dyspepsia, dry mouth, decreased appetite, stool disorders, taste changes, flatulence, rarely — liver dysfunction.

CNS:

often — headache, infrequently — dizziness, convulsions, taste changes, excessive fatigue, insomnia, drowsiness, tremor, rarely — convulsions.

Hematopoiesis system:

rarely — leukopenia, thrombocytopenia, anemia, agranulocytosis, neutropenia.
Cardiovascular system: infrequently — ventricular flicker, an increase in the duration of the QT interval, ventricular tachycardia.

Metabolism:

rarely — increased blood levels of lipoproteins and triglycerides, hypokalemia.

Immune system:

rarely — angioedema, urticaria, itching of the skin.
Liver and biliary tract: often — increased activity of liver enzymes and phosphatase, infrequently — hepatitis hepatotoxicity, hepatocellular damage, increased concentration of bilirubin in blood plasma, jaundice, cholestasis.

Skin and subcutaneous tissues:

often — rash, urticaria, itching, infrequently — alopecia, rarely — Stevens-Johnson syndrome.

Musculoskeletal system:

rarely — muscle pain.
Other manifestations: weakness, fatigue, sweating, fever, dizziness.
Generic Diflucan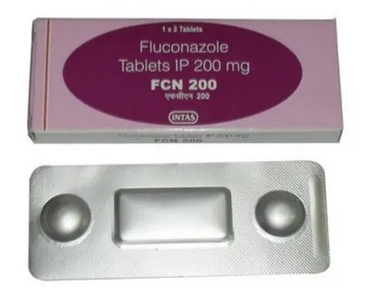 Generic Diflucan is an antifungal drug used for invasive candidiasis, a fungal infection that can be caused by several Candida species. In the US, the drug is most often referred to the second line of drugs effective in invasive candidiasis. However, there are a number of diseases (endophthalmitis, meningitis and candidiasis of the urinary tract) in which fluconazole is a 1st-line drug. Fluconazole is also recommended as a drug used after treatment with echinocandins. With such a step-by-step therapy, the therapeutic effect of fluconazole is comparable to the therapeutic effect of echinocandins. The limitation of the use of fluconazole is the development of resistance to it. It is noted that some mechanisms of resistance formation include genes involved in the pathway of ergosterol biosynthesis; others are associated with drug transporters, changes in ploidy and loss of heterozygosity.