Buy Isentress® 400mg Online
Brand: Isentress®
Composition: Raltegravir
Power: 400mg
Pack Type: Bottle
Disease/Treatment: HIV-1 infection, in combination with other antiretrovirals
Manufacturer: Merck Pharmaceutical
Country of Origin: India
Order Isentress® Raltegravir 400mg Tablets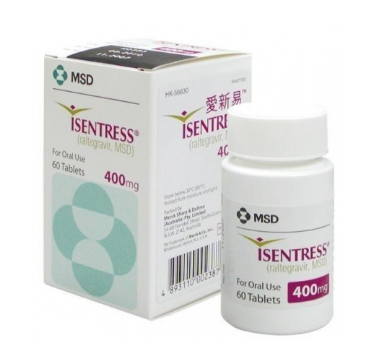 Packing: 60 tablets in 1 Bottle
Minimum order quantity: 1 Bottle
Price: $ 8.33 per tablet
: 14-21 days
Trackable service: 5-9 days
Free AirMail shipping
Isentress® Raltegravir 400mg inhibits the catalytic activity of HIV integrase, an enzyme involved in HIV virus replication. Inhibition of integrase prevents covalent introduction (integration) of the HIV genome into the genome of the host cell in the early stages of infection. HIV genomes not included in human DNA are not able to induce the production of new viral particles, therefore, suppression of the integration process prevents the spread of viral infection in the body. The inhibitory ability of raltegravir against human phosphotransferases, including DNA polymerases α, β and γ, is expressed insignificantly.
What is the Form of Isentress® 400mg tablets?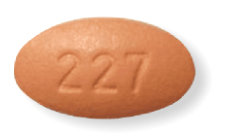 Isentress® 400mg Tablets, film-coated pink, oval, biconvex, engraved "227" on one side and smooth on the other.
These tablets are indicated in combination with other antiretroviral (ARV) drugs for the treatment of HIV-1 infection in adult patients. The Patient Information and Instructions for Use also are available.
What are the indications for the use of Isentress® 400mg tablets?
Isentress® 400mg tablets are used for the treatment of HIV-1 infection in combination with other antiretroviral drugs in adults, adolescents and children from 6 years of age and with a body weight of at least 25 kg, both previously receiving and not receiving antiretroviral therapy.
How does Isentress® 400mg work?
The virus produces an enzyme called HIV integrase. This enzyme helps the virus to multiply in the cells of your body. Isentress® 400mg stops the action of this enzyme . When used with other medications, Isentress® 400mgcan reduce the amount of HIV in the blood (this is called "viral load") and increase the number of CD4 cells (a type of white blood cells that play an important role in maintaining a healthy immune system). and which helps fight infections). Reducing the amount of HIV in your blood can improve your immune system. This means that your body can fight infections better.
Pharmacotherapeutic group
Microbiology of Isentress® 400mg tablets
At a plasma concentration of 31±20 nmol/L, raltegravir suppressed virus replication by 95% (95% inhibitory concentration, IK95) in cell cultures of human T-lymphocytes infected with the H9IIIB variant of HIV-1 adapted to cell cultures compared with the control virus-infected cell culture. IC95 was achieved at concentrations from 6 to 50 nmol/L in cultures of human mitogen-activated peripheral blood mononuclears infected with various primary clinical HIV-1 strains, including strains of 5 non-B subtypes of HIV-1, as well as strains resistant to reverse transcriptase inhibitors and HIV protease inhibitors.
When analyzing one cycle of infection, raltegravir suppressed infection caused by 23 HIV strains representing 5 non-V subtypes and 5 circulating recombinant forms, with an IC50 of 5-12 nmol/L. Raltegravir also suppressed replication of HIV-2 strains when tested on SEMx174 cells (IK95 = 6 nmol/L). With simultaneous introduction into the culture of human T-lymphocytes infected with the H9IIIB variant of the HIV-1 virus, raltegravir and nucleoside reverse transcriptase inhibitors (zidovudine, salzitabine, stavudine, abacavir, tenofovir, didanosine and lamivudine), non-nucleoside reverse transcriptase inhibitors (efavirenz, nevirapine and delavirdine), inhibitors HIV proteases (indinavir, saquinavir, ritonavir, amprenavir, lopinavir, nelfinavir and atazanavir) or a fusion inhibitor (enfuvirtide), antiretroviral activity from additive to synergistic was observed.
What are the contraindications to the use of Isentress® 400mg?
Hypersensitivity to raltegravir and other components of the drug;
children under 6 years of age;
body weight up to 25 kg;
pregnancy;
lactation period (breastfeeding);
lactose intolerance, lactase deficiency or glucose/galactose malabsorption.
With caution:
myopathy and rhabdomyolysis (including in anamnesis), the presence of
conditions and factors predisposing to their development;
severe hepatic insufficiency;
simultaneous use with strong inducers of UDP-GT1A1 (rifampicin);
simultaneous use of Isentress® 400mg with antacids containing aluminum or magnesium;
depression, including suicidal ideation and behavior (observed mainly in patients
with a history of depression or psychiatric illness). Caution should be exercised
when prescribing Isentress® 400mg to patients with a history of depression or psychiatric diseases;
elderly (due to limited information on the use of raltegravir in patients over 65 years of age).


Pregnancy and lactation
Controlled studies of the drug Isentress® 400mg in pregnant women have not been conducted, therefore Isentress® 400mg is contraindicated for use during pregnancy.
There is no data on the intake of raltegravir in human breast milk. However, the intake of raltegravir into milk in lactating rats was detected: when the drug was administered at a daily dose of 600 mg / kg, the concentration of raltegravir in milk exceeded the plasma concentration by about 3 times.
Breastfeeding is not recommended for HIV-infected mothers in order to avoid postnatal transmission of HIV to children. If it is necessary to use the drug during lactation, it is recommended to stop breastfeeding.
Resistance to the drug Isentress® 400mg
HIV-1 integrase mutations contributing to the appearance of raltegravir-resistant virus strains (developed in vitro or in patients taking raltegravir) mainly include substitutions at positions 155 (N155 substitution for H), 148 (Q148 substitution for H, K or R) or 143 (Y143 substitution for C, H or R), in combination with one or more additional mutations (for example, L74M, E92Q, T97A, E138A/K, G140A/S, V151I, G163R, S230R).
Recombinant viruses with a single primary mutation (Q148H, K or R or N155H) were characterized by a reduced ability to replicate and reduced sensitivity to raltegravir in vitro. Secondary mutations of the virus further reduced the sensitivity to raltegravir, sometimes compensating for the reduced ability of the virus to replicate.
Mutations associated with the development of resistance to raltegravir can also lead to the formation of resistance to another chain transfer inhibitor integrase elvitegravir. When replaced at position 143, sensitivity to raltegravir decreases to a greater extent than sensitivity to elvitegravir, whereas mutations in E92Q cause greater resistance to elvitegravir than to raltegravir. Viruses with a mutation at position 148 in combination with one or more additional mutations that cause resistance to raltegravir may also have clinically significant resistance to dolutegravir.
Influence on the electrophysiological activity of the heart or on ECG indicators
In a placebo-controlled clinical trial involving healthy volunteers, a single intake of 1600 mg of raltegravir had no effect on the duration of the QTc interval, despite the fact that the Cmax of raltegravir in blood plasma was 4 times greater than with a single intake of raltegravir at a dose of 400 mg.
How to take Isentress® 400mg for adults?
Isentress® 400mg film-coated tablets: swallow whole.
Dosages
Patients who have not previously received treatment, or virologically suppressed on Isentress® 400mg three times a day: 1200 mg per day or 400 mg three times a day.
Patients with treatment experience: 400 mg twice a day.
Avoid dosing before dialysis sessions.
Concomitant therapy with rifampicin: 800 mg (2 x 400 mg) twice a day.
Overdose
No specific symptoms of an overdose of Isentress® 400mg were detected. Raltegravir was well tolerated by healthy volunteers in the mode of 1600 mg once a day and 800 mg twice a day, without any manifestations of toxicity. A single dose of 1800 mg per day in phase II / III studies did not have a toxic effect. Based on the available data, it can be concluded that raltegravir is well tolerated in doses up to 800 mg twice a day, as well as when taken with drugs that increase its exposure by 50-70% (for example, tenofovir and atazanavir). Raltegravir has a wide therapeutic range, so the potential for toxic effects as a result of overdose is limited.
Treatment: in case of overdose, it is necessary to follow standard recommendations, such as removing the non-absorbed drug from the gastrointestinal tract, monitoring vital signs, including ECG, prescribing symptomatic therapy. There is no data on the effectiveness of dialysis in case of overdose with Isentress® 400mg.
Use in children and adolescents
The recommended dose of Isentress® 400mg is 400 mg twice a day orally for adolescents and children with a body weight of at least 25 kg.
Do not chew, crush or divide the tablets, as this may change the amount of medication absorbed into the body. You can take this medicine with or without food or drink.
Isentress is also available in the form of 600 mg tablets, chewable tablets and oral pellets.
You should not switch between 400 mg tablets, 600 mg tablets, chewable tablets or granules for oral solution without first consulting your doctor, pharmacist or nurse.
What are the side effects of Isentress® Raltegravir 400mg?
The safety profile of Isentress® 400mg is based on the results of generalized safety data obtained during clinical trials involving patients who had previously received antiretroviral therapy (ART) and patients who had not previously received ART.
In a combined analysis of the results of clinical trials of antiretroviral therapy in adult patients who had previously received ART, the frequency of discontinuation of therapy due to adverse reactions was 3.9% in the group of patients taking Isentress® 400mg and optimized supplemental therapy (ODT), and 4.6% in the group of patients taking placebo and ODT. The frequency of discontinuation of therapy due to adverse reactions in adult patients who had not previously received ART was 5.0% in the group of patients taking Isentress® 400mg simultaneously with emtricitabine and tenofovir, and 10.0% in the group of patients taking efavirenz, emtricitabine and tenofovir simultaneously.
Below are data on adverse events observed in clinical trials, with varying degrees of probability associated with the drug Isentress® 400mg or its combination with another ART.
Adverse events are listed according to systemic organ classes and frequency classification: often (≥1/100 and less than 1/10), infrequently (≥1/1000 and less than 1/100).
Infectious and parasitic diseases: infrequent – genital herpes, folliculitis, gastroenteritis, herpes simplex, herpes infection, shingles, influenza, lymph node abscess, contagious mollusc, nasopharyngitis, upper respiratory tract infection.
Benign, malignant and unspecified neoplasms (including cysts and polyps): infrequent – papillomatosis of the skin.
From the blood and lymphatic system: infrequent – anemia, iron deficiency anemia, lymph node soreness, lymphadenopathy, neutropenia, thrombocytopenia.1
On the part of the immune system: infrequent – immunity restoration syndrome, hypersensitivity to the drug, hypersensitivity reactions.
From the side of metabolism: frequent – decreased appetite; infrequent – cachexia, diabetes mellitus, dyslipidemia, hypercholesterolemia, hyperglycemia, hyperlipidemia, hyperphagia, increased appetite, polydipsia, violation of fat metabolism.
Mental disorders: frequent – unusual dreams, insomnia, nightmares, behavioral disorders 2, depression; infrequent – mental disorders, suicidal attempts, anxiety, confusion, depressed mood, major depressive disorder, mid-night insomnia, mood changes, panic attacks, sleep disorders, suicidal ideation1, suicidal behavior1 (especially in patients with a history of psychiatric diseases).
From the nervous system: frequent – dizziness, headache, psychomotor hyperreactivity 2, infrequent – amnesia, carpal tunnel syndrome, cognitive disorders, attention disorders, postural dizziness, dysgeusia, hypersomnia, hypesthesia, lethargy, memory disorder, migraine, peripheral neuropathy, paresthesia, drowsiness, tension headache, tremor, decreased quality sleep.
From the side of the organ of vision: infrequent – decreased visual acuity.
On the part of the organ of hearing and labyrinthine disorders: frequent – vertigo; infrequent – tinnitus.
From the cardiovascular system: infrequently – a feeling of palpitation, sinus bradycardia, ventricular extrasystole, flushes of blood to the skin of the face with a feeling of heat, arterial hypertension.
From the respiratory system, chest organs and mediastinum: infrequent – dysphonia, nosebleed, nasal congestion.
From the digestive system: frequent – abdominal distension, abdominal pain, diarrhea, flatulence, nausea, vomiting, dyspepsia; infrequent – gastritis, abdominal discomfort, pain in the upper abdomen, abdominal pain, discomfort in the anus, constipation, dry mouth, feeling discomfort in the epigastric region, erosive duodenitis, belching, gastroesophageal reflux, gingivitis, glossitis, pain when swallowing, acute pancreatitis, peptic ulcer, rectal bleeding.
From the liver and biliary tract: infrequent – hepatitis, liver steatosis, alcoholic hepatitis, liver insufficiency.1
From the skin and subcutaneous tissues: frequent – skin rash; infrequent – acne, alopecia, acne, dry skin, erythema, facial lipoatrophy, hyperhidrosis, lipoatrophy, acquired lipodystrophy, lipohypertrophy, night sweating, prurigo, itching (local and generalized), macular rash, maculopapular rash, itchy rash, urticaria, xeroderma, other skin lesions, Stevens-Johnson1 syndrome, drug rash with eosinophilia and systemic symptoms (DRESS syndrome)1.
From the musculoskeletal system: infrequent – arthralgia, arthritis, back pain, side pain, myalgia, neck pain, osteopenia, limb pain, osteoporosis, polyarthritis, tendinitis, myopathy, rhabdomyolysis 1.
From the kidneys and urinary tract: infrequent – renal insufficiency, nephritis, nephrolithiasis, nocturia, kidney cyst, renal dysfunction, tubulointerstitial nephritis.
From the genitals and breast: infrequent – erectile dysfunction, gynecomastia, symptoms of menopause. Common disorders: frequent – asthenia, weakness, fever; infrequent – chest discomfort, chills, swelling of the face, an increase in the volume of adipose tissue, anxiety, malaise, submandibular neoplasm, peripheral edema, pain.
Laboratory and instrumental data: frequent – increased activity in the plasma of ALT, AST, lipase and amylase of the pancreas, increased concentration of triglycerides and the number of atypical lymphocytes; infrequent – a decrease in the absolute number of plasma neutrophils; increased activity in the plasma of alkaline phosphatase, CPK, decreased albumin concentration; increased concentration of bilirubin, cholesterol, creatinine, glucose (in incl. determined on an empty stomach), urea nitrogen, HDL cholesterol, LDL cholesterol; an increase in the value of INR; a decrease in the number of platelets and leukocytes in the blood; the presence of glucose in the urine, the presence of red blood cells in the urine; an increase in waist circumference; an increase or decrease in body weight.